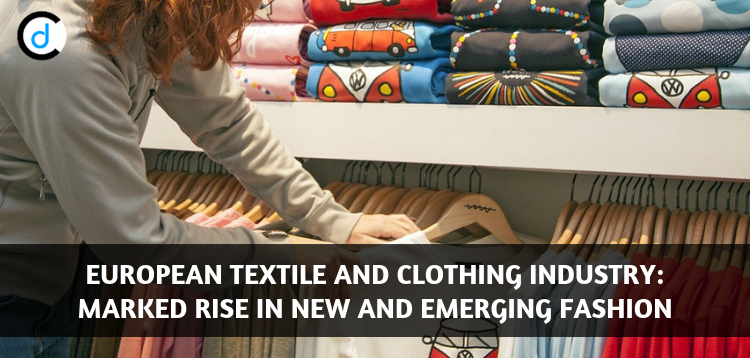 2015 was the official European Year for Development, Europe is home to the world's most important textile and fashion inventions from history. "Made in Europe" tag is steeped in heritage, award-winning craftsmanship and exceptional quality. Europe has always been a home to hundreds of leading retailers and brands, thousands of talented emerging designers, forward-thinking entrepreneurs, researchers and educators, and internationally acclaimed designers. The European textile and clothing industry is generating 1.7 billion jobs in the EU alone. 6% of employees engaged in total manufacturing in Europe. By 2025, it is expected that the European textile and clothing industry will create 600,000 jobs.
The EU is the leading producer of both the industry textile and apparel. In 2017, the apparel manufacturing stood at €65.4 billion and the textile manufacturing at €77.4 billion. The European textile and clothing industry's total turnover was €178 billion in 2018. In 2017, Southern and Western EU is the most developed EU members, such as Germany, France, and Italy accounted for nearly 80% of total EU's textile manufacturing. The total textile output has increased to 23.2% in 2016 from 20.2% in 2011; the share of non-woven and other technical textile products of EU countries that reflect the on-going structural change of the sector.
The textile industry in Europe is comprised of small businesses and enterprises (SMEs), which is account for over 90% of the workforce that produces almost 60% of the value added with less than 50 employees. The Textile and Clothing Industry of Europe is a heterogeneous and diverse industry, which covers a wide range of important activities. It covers turning raw fibre into yarns and then yarns into the fabric afterwards uses the fabric to produce a wide range of finished products finally, such as geo-textiles, wool, clothing, bed-linen and synthetic yarns using high-tech machines.
European Textile and Clothing Industry Still Leading The World:
The European Textile and Clothing Industry is a leader in world markets attributed to its flexibility, the development of products that address new needs (such as technical textiles for industrial uses), the continuous adaptation of its structure to the market and its high-end specialisation. 30% of the world's export is through the EU region to the rest of the world. Intra-region trade is one of the important features of the European textile and apparel industry.
In 2017, the European regions total textile's import was €57.37 billion, as much as 58.2% (or €33.35 billion) were in the category of intra-region trade, despite the increasing pressure from cost-competitive Asian suppliers, according to the statistics from the World Trade Organization (WTO). In 2017, a total of €146 billion apparel imports were from EU countries, as much as 47.2% (or € 69billion) were from other EU members. In comparison, close to 97% of apparel consumed in the United States are imported in 2017, of which more than 75% come from Asia (Eurostat, 2019; WTO, 2018).
The apparel manufacturing of the EU consists of medium-priced products and high-end luxury apparel. The high-end luxury apparel produced by developed Western EU countries, such as Italy, UK, France, and Germany. On the other hand, the medium-priced products are produced primarily in developing countries of Eastern and Southern Europe, where cheap labour is relatively abundant, such as Poland, Hungary, and Romania. In the Western EU countries, labour accounted for 21.1% of the total apparel production cost in 2016 substantially lower than 30.1% back in 2006.
DyeCoo:
DyeCoo Textile Systems B.V. is a Netherlands-based, world's first water-free and process chemical-free dyeing solution founded by Reinier Mommaal in 2008. It is the world's first supplier of industrial CO2 dyeing equipment. DyeCoo also offers its own range of dyes for CO2 dyeing. Together with one of the main shareholders, Feyecon D&l, they have extensive knowledge of CO2 applications and design and engineering of CO2 machines. The startup's mission is to supply dyeing systems for the textile finishing industry based on superior CO2 technology, gaining a considerable market share and contributing to a sustainable environment in terms of water consumption, energy consumption, CO2-emissions and waste disposal.
De Rigueur:
De Rigueur is a Paris-based fashion house that creates innovative and high-end leather accessories, handmade for gentlemen founded by Adrien Deslous-Paoli in 2014. The startup combines technological innovation in leather with the aim of introducing a new category of hybrid goods. The startup has also a winner of the CES Innovation Award 2016 for its product Connected Sleeve, a wireless and elegant charging solution for smartphones. This unique practical wallet integrated with 7,000 milliamp-hour battery backup and it works through its electromagnetic induction which eliminates the use of cables and optimised energy consumption with patented hardware and embedded software.
Challenges in the European Textile and Clothing Industry:
The European textile and clothing industry is one of the world's most difficult markets to enter. The EU has very strict legal requirements and it is necessary to meet all the non-legal requirements of European businesses to enter. These non-legal requirements are customer-specific; you can usually read up on them in the suppliers' manual provided by your buyer. Market entry is getting easier to large numbers of suppliers that are offering more or less the same in terms of speed, price, flexibility and quality, for buyers it is getting easier and cheaper to switch from one supplier to another.
Finding new suppliers fulfilling Corporate Social Responsibility (CSR) requirements and expectations in Europe are getting tougher and are one of the major challenges that buyers are facing nowadays. Some European manufacturers have started to compete with suppliers from developing countries and have built up competitive advantages, such as quality and design, higher flexibility, higher productivity, shorter lead times and innovation. As a result, the production of high-end, ultra-fashionable clothes more and more likely to remain in or near Europe, in countries like Portugal, Spain, Italy and Turkey.
Competition is becoming fierce inside Europe and has several drivers, such as more control over design and production in some higher segments and need for shorter lead times. This development is a threat to developing country supplier if it relies on fast fashion or high quality, for instance, a lot of high-end (leather) fashion is being relocated from the developing world to Portugal. More and more manufacturing organisations, in order to compete with these fast fashion organisations, and are moving parts of their design making, sample making and merchandising to high-turnover markets.
Opportunities in the European Textile and Clothing Industry:
In the European Textile and Clothing Industry technology is changing the techniques of new production, the possibilities of scanning sizes, faster communication. In this fast fashion era, labour-intensive production will likely make way for capital-intensive production, dominated by new technology and robotics. The EU industry will see near sourcing as a major time-saving opportunity. For slow fashion, labour-intensity endures a leading factor: in this segment, most European buyers will prefer far-shore sourcing.
China is slumping down on polluters, pushing many garment factories to shut down; it is a great opportunity for Europe. Due to this many international textile buyers are frequently shifting away from China. With this China's textiles sector faces escalating costs of inputs such as cotton and wool, costlier environmental rules and massive import taxes for basic manufacturing equipment. Demand is growing faster in the European countries and Europe's economic rebound is causing new markets to develop.
Demographic changes will differ significantly within Europe as there are more older people and this is providing a growing opportunity for business too in older groups of consumers. It is expected that the percentage of people aged 65 years and older will increase by 30% in 2060 from 17% in 2010. In the same period, 5% to 12% increase is expected in a population of 80 years and older and that segment of older people will be more active and it will be an important segment of the consumer group.
If you would like to talk to us and discuss whether we can be a good team together, you can send a message to us here directly. We will reply to you within 24 working hours.
Clothing and Textiles
,
Corporate Social Responsibility (CSR)
,
Craft Driven
,
De Rigueur
,
DyeCoo Textile Systems B.V.
,
Europe Market Research
,
European Clothing Industry
,
European SMEs
,
European Startups
,
European Textile and Clothing Industry
,
European Textile Industry
,
market research