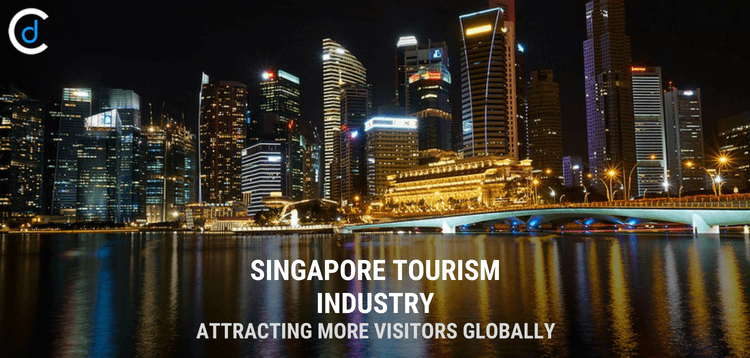 Singapore as one of the world's largest economic sectors, Travel & Tourism creates jobs, drives exports, and generates prosperity across the world. In 2017, the global economic impact of Travel & Tourism accounts for 10.4% of global GDP and 9.9% of total employment or 313 million jobs, according to the World Travel and Tourism Council analysis. Singapore, in the 1970s, budgeted about $1 billion to developing the tourism industry. It is called the Tourism Product Development Plan. It is designed to maintain and preserve Singapore's historic districts, such as Chinatown, Little India, and Arab Street. This project is done in the projection of the impact it will have on the economy in the years to come. They were not wrong; Singapore tourism has grown to have major impacts on the country's economy.
Singapore has one of the highest per capita incomes in Asia and is an important global business as well as a transportation hub. In 2014, the Singapore economy grew by 3.2 % as compared with 2.6 % in the previous year. In 2017, the total contribution of Singapore travel and tourism to GDP was 10.2% which was SGD 43.5 Bn (USD 31.5 Bn) and forecasted 3.5% rise by 2018 and by 2028 the GDP is expected to reach 11.4% that will be 3.6% pa to SGD 64.2 Bn (USD 46.5 Bn). Changi Airport, Singapore's international airport has won more than 450 awards and it is one of the best airports globally. The airport caters to over 100 airlines and is expected to double its capacity by 2020 to serve 135 million passengers per annum.
STB has an extensive network of offices spanning the globe. Currently, STB has four Marketing Representatives and 20 Regional Offices, expanded in the seven regions. The entire spectrum of tourism functions, from tourism marketing to investment promotion all are under the regional offices of STB. They work together with in-market industry partners to promote Singapore to overseas consumers, facilitate tourism companies in investment plans and business alliances, monitor competitive activities and support the development of bi- or multilateral agreements.
The determinants of inbound Singapore tourism:
Inbound tourism Is a source of hard currency to the country. It creates jobs for the people and Represents a tool for development and progress for the nation. It is an encouraging and promising field for the investors and source for taxes to the country.
China- Worlds Biggest Spenders & Top-Spenders in Singapore Tourism for the third year in a row.
China has Spent $3.08 Million last year (2017) According to the world tourist organization, China's outbound tourist is growth rate is 19%, which puts China in the top spender spot globally for the sixth year in a row, ahead of U.S.A. According to the Singapore Tourism Board, last year from January to October, more than 2.7 million Chinese came to the country which is almost one-fifth of all visitors' arrival. The growth of Chinese tourism in Singapore is a marketing push of STB in other parts of China also other than the major cities, such as Shanghai and Beijing. Singapore appeals to Chinese tourists to come and learn more about Singapore heritage and culture other than just shopping and sightseeing offering to guests, according to industry experts.
Singapore remains a hot trend destination for Indians saw 1.27 Million visitors in 2017.
Singapore welcomes over 1.27 million Indian tourists in 2017, registering a growth of 7.4 %, according to Chee Pay Chang (Executive Director of South Asia, Middle East and Africa, Singapore Tourism Board.
India has moved a notch higher in becoming the third biggest source market for Singapore also the largest foreign source, market for the cruise in Singapore, India travellers account for the biggest chunk of Cruise travellers from Singapore with more than 1,00,000 tourists.
India's outbound travel rate is growing 15-20 % every year; also tourist arrivals from India registered the highest growth rate of 16 % among all other markets according to the Singapore Tourism Board.
Number of Indians travelling overseas is set to rise to around 50 million by 2020.
For the Singapore tourism board, India has significant potential to grow with young families and millennials looking for holiday options in a place like Singapore.
Singapore is the destination that European perceived to be safe, easy to travel to explore other nearby destinations.
Singapore is among the fastest growing destinations among European Travelers since 2010.
Long Haul International trips to Asia had been increasing since 2010 and accounted for over 6 % of all outbound trips made by European Travelers.
Majority of European Visitors arrived in Singapore as a part of the multi-destination trip, accounting for over 60 % of all the Europe visitors in 2013 and the average length of the day is 3-4 days. Most European Visitors travelled to Singapore from January to March to escape from the cold winter in Europe.
Europe is among the World's Largest Market for Outbound Tourism, saw over 580million outbound travellers in 2014.
As the Europe economy gradually recovers from the recession long-haul travel to Asia remains attractive to European Travelers, offering a different experience from home, therefore Singapore would have to enhance its proposition to remain a top priority within the consideration set of Europe travellers when they make trips to Asia.
Singapore Tourism Receipts
In 2015, the tourism receipts in destinations around the world increased by 3.6% and 4.4% increase in international arrivals. In 2016, international tourism grew faster for the fourth consecutive year than world merchandise trade and increasing tourism's share in the world's exports to 7%. From International tourism, the total export value accounted for US$ 1.4 trillion and Singapore Tourism receipts expanded by 3.9% in 2016. This was mostly due to visitor arrivals across all top 10 markets growing, as well as more arrivals from high-spending markets such as China, South Korea, the United States and the United Kingdom. China also emerged top in tourism receipts for the third consecutive year.
The spending of tourist in Singapore is increasing every year with tourism receipts reaching SGD 6.4 billion, according to the Q1 2017 Tourism Sector Performance report of STB. Tourism receipts growth is connected with the higher visitor arrivals, as well as a major increase is expected in all components, such as sightseeing, gaming (SEG) components include shopping, accommodation, entertainment and food and beverage. Tourism receipts major components is accommodation. According to STB total gazette room revenue for 2017 grew by 3.9% to reach S$3.7 billion, while hotel occupancy rose by 1.5 percentage points. Twenty-two new hotels also opened, bringing the total number of hotels in Singapore to 420 at the end of December 2017. This led to room supply expanding by  5% to 67,084 rooms.
Sightseeing, Entertainment and Gaming become very popular in terms of the amount spent and popularity since 2009. Income on food beverage is also quite good, but not that high as other components, because the Retail growth is present but not as fast as expected, also due to Singapore's large imports, changes in commodity and freight prices will have an impact on food sales. Shopping is also seeming to be at the top of the tourists' expenditure list. It is a key pull factor that attracts tourists which plays an important role in increasing the Tourism Receipt of Singapore.
HOTEL INDUSTRY:
The hotel industry and the hospitality sector is one of the world's fastest-growing divisions of the industry globally. Travel and tourism industry has helped many industries to remain afloat despite having tough economic time for and made it difficult for many sectors to survive. Despite the rapid growth in tourist activities, hotels in Singapore surprisingly have not experienced an increased number of guests in 2018. In fact, Singapore's hotel room revenue actually declined by -1.7% from S$1.58 billion to S$1.55 billion, according to data collected by the Singapore Tourism Board. In fact, hotels actually sold -0.6% fewer room nights in the first half of 2017 than it did in the same period in 2016. The highest occupancy rate achieved so far is 85.7 % in 2012, after this year rate has been decreasing.
Plenty of tips are there and provided to the hotel to improve its occupancy rate numbers. Cleanliness, price, and guest experience are big factors, but there is so much more Singapore Tourism Board can do to increase the occupancy rate. The Standard Average rate of the room has been inclined by 18 % from last year which must be the reason for the low occupancy rate. Total gazette room revenue rose by 15 per cent to reach S$3.70 billion in 2017. As at End-December 2018, the total revenue should be around S$3.9 billion.
For customized market research reports for any kind of startups and business in any industry, you can contact Craft Driven Market Research team here directly.
Asia
,
Craft Driven
,
European Travelers
,
Hotel Industry
,
Inbound Tourism
,
market research
,
Outbound Tourism
,
Singapore
,
Singapore Tourism
,
Singapore Tourism Board
,
Tourism
,
Tourism Industry